Events
To support, promote and advance system-level design, modeling and verification standards for use by the worldwide electronics industry, Accellera hosts and supports numerous events throughout the year.
DVCon U.S. 2023
February 27 - March 2, 2023
In-person Event
dvcon.org
DVCon Japan 2023
June 22, 2023
Kawasaki City Industrial Promotion Hall
Kawasaki, Kanagawa, Japan
dvcon-jpn.org
DVCon China
(Postponed to 2023)
dvcon-china.org
SystemC Evolution Events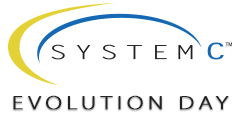 Each year Accellera holds one SystemC Evolution Day as well as periodic online workshops named SystemC Evolution Fikas. Find out more >
For more information about upcoming SystemC Evolution events and presentations from past events, please go to systemc.org.
Accellera Global Sponsors
Contact us if you are interested in becoming a Global Sponsor.

Presentations from Past Events
Presentations from many past events are available for download.